With the success of her debut EP Call Me Crazy But. . . Sevyn Streeter is back to offer her fans a new music video. "nEXt" is one of the seven songs that appear on the EP, the original is a solo record but Sevyn tapped west coast rapper Kid Ink for the remix. Directed by Derek Blanks and inspired by the BET original scripted series Being Mary Jane, Sevyn talks about how her ex boyfriend ends up being her next boyfriend. Yesterday she stopped by BET's 106 & Park to premier the video and she also mentioned a surprise that will happen in the coming weeks after host  Keisha Chante mentioned the other version of the music video that has already been shot. A few months back Sevyn released a trailer for the first video which featured rumored boyfriend Mack Wilds.
Check out the music video below:
Check out Sevyn's interview on 106 & Park and the "nEXt" trailer featuring Mack Wilds. . .
Read More
The time has finally arrived, Chris Brown's latest visual is for his single "Loyal" featuring Lil Wayne and Tyga. Cameos in the video include Trey Songz, Usher and Ty Dolla $ign. The video was directed by Chris himself, and the track is expected to appear on his forthcoming project X. The album was last given a projected release date for sometime in May, but with Chris Brown currently in jail many are suspecting that the album will be pushed back yet ONCE AGAIN. There is so much going on in the life of Chris Brown it is kind of hard to keep up with everything, but we can only hope that he finally gets everything together once and for all. Until then, we all might as well enjoy the music video.
Check it out below:
This song is NSFW (Not Safe For Work)
You have to give Chris Brown his props, for someone who is always in trouble he still stays relevant on the music scene with new singles for radio and new music videos. He's already started the countdown for the release of his new duet with Ariana Grande "Don't Be Gone Too Long".
Read More
There was an earthquake in Los Angeles just a few hours ago, Chris Schauble and Megan Henderson of KTLA news were broadcasting live during the earthquake on Channel 5. Their reaction to the earthquake is already going viral because it was just classic. Now I know earthquakes are not funny, and luckily no one was hurt doing this 4.4 magnitude earthquake, so that's the only reason why I'm sharing this clip today. Check out the reaction of the team at KTLA compared to that of the news crew at CBS LA.
I don't know if it was his first earthquake, but the black man, Chris Schauble, must have thought the world was coming to an end. It reminded me of my favorite Fresh Prince of Bel Air episode, "the ground moved."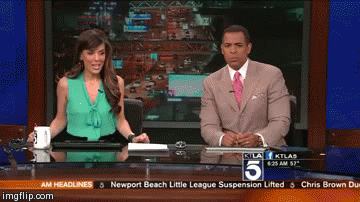 Watch the full clip below, and just so you can put his reaction into perspective, watch the video from the CBS morning team, too. Big Difference!
Read More
Tameka "Tiny" Cottle, Christina Milan, and Karrueche are twerking their way into shape. Tiny is on the scene with these young ladies keeping it tight at LexTwerkOut in Hollywood while taking private twerk-out classes instructed by owner Lexi Panterra. This is a new and sexy way to workout. Don't let the name fool you, although it's fun, it's a lot of hard work, too. Twerking has definitely gone mainstream…
Check out more photos of the girls below, then check out a video to see what LexTwerkOut is really all about:
Read More
American Idol judge Jennifer Lopez recently released the official visual for her new single "I Luh Ya Papi" featuring French Montana. The track appears on her 10th studio album and in the video Jennifer turns the tables on the traditional music video treatment and objectifies men, as men would objectify women in their music videos. All while having fun, Jenny also recreates some of her classic fashion moments I'm sure you guys would recognize (i.e. Versace dress from 2000 Grammy Awards). This video gives me classic J.Lo & I'm loving every single bit of it.
Check out the fun music video below:
Read More
Trey Songz recently released the official music video for his new single "Na Na", which will appear on his new album Trigga. The album is expected to release this summer, and speaking of summer this video is definitely hot. Trey has video model Rosa Acosta as his leading lady, with her fitness background it is only right as she takes him throughout an intense workout featuring other well known fit women. Some of the cameos in the video feature NYC celebrity trainer/ fitness model Massy (@mankofit on Instagram) and WWE's very own Bella Twins, who appear on the E! reality show Total Divas.
Check out the sexy video below:
Are you guys feeling the video?
Read More