Lupita Nyong'o has been named People's Most Beautiful Person. This is such an honor. I remember having the debate about Pharrell blaming people's insecurities and projecting their delusions because of his choice in women for his album cover. Although personally I'm not bothered by the album cover or the women on it, I couldn't help but think about Lupita Nyong'o, and her speech at the 7th Annual Essence Black Women In Hollywood Luncheon.
I put on the TV and only saw pale skin, I got teased and taunted about my night-shaded skin. And my one prayer to God, the miracle worker, was that I would wake up lighter-skinned…And then…Alek Wek. A celebrated model, she was dark as night, she was on all of the runways and in every magazine and everyone was talking about how beautiful she was. Even Oprah called her beautiful and that made it a fact. I couldn't believe that people were embracing a woman who looked so much like me, as beautiful. My complexion had always been an obstacle to overcome and all of a sudden Oprah was telling me it wasn't.
I remember Lupita Nyong'o talking about seeing model Alek Wek for the first time and how Alek's face on runways and magazines changes Lupita's concept of beauty. She no longer prays to God to turn her night-shade skin light. It's in that moment that Lupita realizes that beauty isn't just white. I take offense to the words "projecting delusions"
Read More
I just had to share this video, which pretty much speaks for itself. Young black male students from Illinois' Central High School are trying to change the negative stereotypes of young black men with this video Suit & Tie in the 217. These babies are dressed in their finest to project a counter image of black teen sagging to their knees, wearing oversize jerseys and hoodies.
The students used in this video are successful student scholars, athletes, and representatives for our schools. They are National Honor Society members, Honor Roll members, future collegiate athletes, and future college students at several Big Ten Universities. They are also Eagle Scouts, military personnel, and poets. They are class of 2014 and 2015.
Check out the video below:
Read More
There was an earthquake in Los Angeles just a few hours ago, Chris Schauble and Megan Henderson of KTLA news were broadcasting live during the earthquake on Channel 5. Their reaction to the earthquake is already going viral because it was just classic. Now I know earthquakes are not funny, and luckily no one was hurt doing this 4.4 magnitude earthquake, so that's the only reason why I'm sharing this clip today. Check out the reaction of the team at KTLA compared to that of the news crew at CBS LA.
I don't know if it was his first earthquake, but the black man, Chris Schauble, must have thought the world was coming to an end. It reminded me of my favorite Fresh Prince of Bel Air episode, "the ground moved."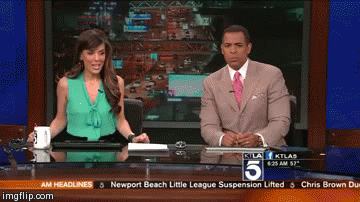 Watch the full clip below, and just so you can put his reaction into perspective, watch the video from the CBS morning team, too. Big Difference!
Read More
Ariana Grande, known as "The Voice" of her generation was invited to Washington D.C., to sing for the In Performance at the White House: Women of Soul concert series. The beautiful songstress, also known as Cat on Nickelodeon's Sam & Cat, tackled Whitney Houston's I Have Nothing in front of President Obama, and First Lady Michelle Obama. Right by her side to console the nervous singer before her performance was Patti LaBelle with a warm embrace. Can you imagine being the youngest singer in a room full of great talent, having Patti LaBelle give you her blessing? What a moment! Ariana Grande definitely showed her age when she "what's up" the first family, but she ended her set with a strong vocal performance:
Mr. President, Mrs. Obama…What's up? How are you? Good to see ya. It's good…is it all good? Alright, good.
Performers of the night included, Melissa Etheridge, Janelle Monae, Jill Scott, Tessanne Chin of The Voice, Ariana Grande, Patti LaBelle, as the R-E-S-P-E-C-T honoree of the night Aretha Franklin. Being President has its privileges! Man I can't wait to see Jill Scott's performance!
Read More
Last night the 2014 BET Honors aired, there were tons of amazing performances that went down as music legends Aretha Franklin and Barry Gordy were honored. Other honorees included Ice Cube, Kenneth Chenault, Carrie Mae Weems and Nelson Mandela. Performers included Jennifer Hudson, Tamar Braxton, Karen Clark-Sheard, Mariah Carey, Janelle Monae and more. The event was hosted by Wayne Brady in Washington, D.C at the Warner Theater.
Check out the performances when you continue. . .
Read More
Unless you live under a rock, you should be very familiar with Happy, a song by Pharrell. This song makes me want to go outside and enjoy the  sunshine while living my life like it's golden. So Pharrell teams up with MasterCard for their Priceless Surprises campaign. Pharrell surprises one of his biggest fans named Queen. Queen is a drama teacher that teaches a preschool playgroup. Queen dressed like a fairy princess is dancing to the song Happy with her little playgroup when in walks Pharrell. Surprise! The moment is quite beautiful.
This song was meant for people like yourself. To keep you, keep me, keep them, keep us all going. You're absolutely carrying the torch for em,the impetus of the record, and this is priceless what you do. The way you inspire these children, so thank you very much. It's awesome. Surprising my fans…Priceless!
Check out the video below:
Read More