Earthquake In Los Angeles Caught On The News…Reaction Is Classic!
There was an earthquake in Los Angeles just a few hours ago, Chris Schauble and Megan Henderson of KTLA news were broadcasting live during the earthquake on Channel 5. Their reaction to the earthquake is already going viral because it was just classic. Now I know earthquakes are not funny, and luckily no one was hurt doing this 4.4 magnitude earthquake, so that's the only reason why I'm sharing this clip today. Check out the reaction of the team at KTLA compared to that of the news crew at CBS LA.
I don't know if it was his first earthquake, but the black man, Chris Schauble, must have thought the world was coming to an end. It reminded me of my favorite Fresh Prince of Bel Air episode, "the ground moved."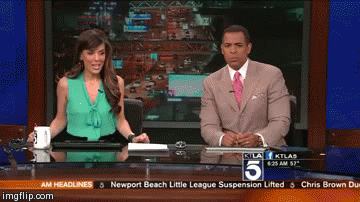 Watch the full clip below, and just so you can put his reaction into perspective, watch the video from the CBS morning team, too. Big Difference!
Now watch a normal reaction…Wait I'm not going to lie, I probably would have done the same thing, too.
Similar Posts: