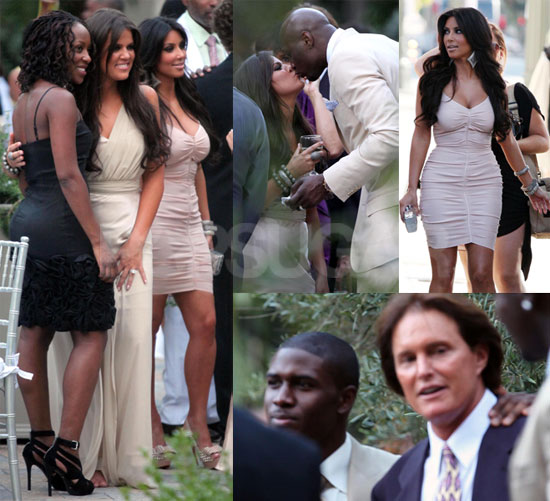 Amber Rose was noticeably missing from Reggie Bush's arm as he attended the wedding of ex-teammate Bobby McCray. Bobby McCray is marrying actress  Khadijah Haqq, is also close friends with the Kim, Khloe, and Kourtney Kardshian. I hope Kim and Reggie didn't make the moment too awkward. Reggie Bush spent plenty of time catching up with his Bruce Jenner and the rest of the Kardashian Clan.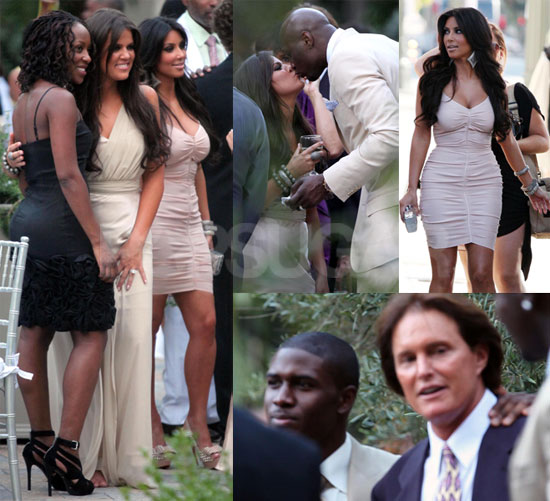 [Photo Credit: Pop Sugar]
Read More
I've been getting tweets asking me why wasn't Solange Knowles at LaLa Vasquez's wedding? Is there a Solange Knowles and Lala beef? Just last year it seems the two were inseparable, constantly sending out twitpics of their BFF adventures, and now it's quite the opposite, the two hardly speak– at least publicly.
Just a few months ago, LaLa announced her wedding plans, and said, "Solange Knowles will definitely be involved." Cut to the day of the wedding, and no Solange Knowles at any of the festivities. Well, it seems Solange Knowles has been making some tough decisions and cutting out a lot of things in her life. Just recently she resigned as the spokesperson for Dereon clothing:
Read More
I was reading several celebrity websites about Gabourey Sidibe having a crush on Trey Songz.  She said to People.com,
I'm super crushing on Trey Songz. I used to listen to his music when I worked in an office, and when I met him a few weeks ago, I couldn't contain my excitement.
And then Gabourey jokingly asked Songz out on a date. The comments that came from readers were harsh and unoriginal.  Of course, people made jokes about her being overweight and some even found themselves offended by her 'audacity' to have a crush on a man like Songz.
There's always this triple contradiction when it comes to people in Hollywood.  Viewers, readers and audiences complain about the 'wrong images' and pressure that Hollywood women put on the everyday woman when it comes down to weight. But then, on the flip side, people are quick to bash, degrade and humiliate an overweight woman.  No, it's not healthy to be obese.  But it sure as hell is a common right for a woman of ANY SIZE to have a crush on whoever she wants to have a crush on.  How many sizes lighter should she be where it would be appropriate for her to have a crush on Trey Songz or Justin Timberlake (which she admitted to earlier)?
Read More
As much as we're all not sure what these ladies actually do for a living, people do like looking at them.  So in the name of fashion, who's outfit do you like better?  Check out photos of Khloe Kardashian, Kim Kardashian and Kourtney Kardashian at the Mercedes-Benz Fashion Week Swim in Miami over the weekend.
Check out 6+ photos of the Kardashians in fashion week….
Read More
Jasmine Sanders, Chris Brown's current girlfriend, walked down the runway this weekend at the Mercedes-BenzFashion Week Swim .  Sanders walked in the True Religion and Ed Hardy Show. I was taking a look at her fashion pics and noticed the tattoo on her side. Then I also found a photo of Sanders showing off a tattoo on her side that looked awfully familiar.  Rihanna showed off a similar side tattoo several years ago. What do you think? Copycat or coincidence?
Click 'continue reading' and check out 8+ photos of Jasmine Sanders on the catwalk and a pic of her tattoo and Rihanna's tattoo..
Read More