UPDATE: Watch video below
Chris Brown is scheduled to do an interview with 20/20 on December 11th, on the heels of Rihanna. Many people are outraged and they think his career should be over because of the Rihanna assault. People are also outraged that Adam Lambert's performance was canceled with Good Morning America, after his American Music Awards performance. So now people are complaining that ABC is discriminating against Adam Lambert because he is gay, yet supporting Chris Brown a hardened criminal.
I don't care who you are, gay or straight, you can't simulate "head" on a family show, and not expect there to be a backlash. Honestly, people were expecting the Rated PG-13 Adam Lambert, not the Rated X. I love Adam Lambert, even voted for him, but his sexual orientation has nothing to do with his performance being too wild for a general the audience.
Anyway, the interview was filmed last week, and will air Dec 11th, at 10/9c.
A little birdie told me, Usher is fighting with his management, better known as his mama, Jonnetta Patton. And no, the little birdie was not Tameka Raymond. Usher and his mother reconciled a year back, but word on the street is that Usher fired his management, I mean his mama , again. It looks like Usher is ready to sign some termination papers, too. Please don't tell anyone, it's suppose to be a secret.
I need Chris Brown and Usher Raymond to get it together. If they can't, I need an artist to step up and take their place.
Read More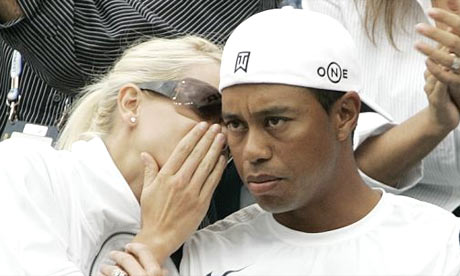 FOR MORE UPDATES & DETAILS ON THIS STORY CLICK HERE: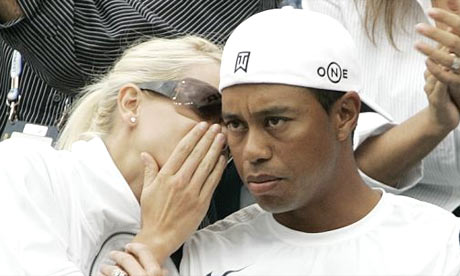 Tiger Woods was involved in a "car" accident which left him in and out of consciousness  with lacerations to the face. Mind you this accident started in his driveway, and no other cars were involved. Pretty serious "traffic" incident when there was no traffic. My husband kept asking, how do you get into an accident that serious in your own driveway. Perhaps TMZ has the answer. I knew instantly when they said Tiger's wife had a golf club, that there was foul play, especially since both of them were up at 2:25 in the morning. I also didn't understand how a little woman broke the car window with a club, and dragged him out of the car. (She must have been a strong "woman", or a a mad bish).
TMZ is reporting that Tiger Woods' wife, Elin Nordegren, found out about an "allege" incident of infidelity and went Crouching Tiger, Hidden Dragon on Tiger Woods face. (I wonder what all my Rihanna fans are going to say about this example of domestic violence. It's probably different since women are too weak to be an abuser). Reports says that she scratched his face up Norweigian-style by way of the hood.
Anyway, it seems Tiger Woods was trying to flee the situation, but was distracted by a golf club hitting his car and windshield; not to save him, but to hurt him. He thought the car was in park, but it was not, and therefore rolled into a fire hydrant and then a neighbor's tree.  Apparently the injuries from the "accident" were caused by his wife prior to the "accident". Once again, celebs are using car "accident" as a synonym for "domestic violence".
Tiger Woods has also admitted to taking prescription pain killers that night. "Continue Reading" to see what TMZ discovered from the police report and witnesses.
Read More
I hope everyone had a great Thanksgiving. I just wanted to post this one story because it really touched my heart. I haven't posted anything on Shaniya Davis because I start crying every time I try to write, and when I finish I become so enraged.
In case you live in a cave and haven't heard, Shaniya Davis is a beautiful five year old  girl that was found on the side of road– raped and murdered– because her own mother, Antoinette Davis, pimped her out for sex to a sick and depraved man, Mario Andrette McNeill, 29.
It's reported that Shaquille O' Neal was so moved by this story that he picked up the funeral cost for this little angel. We like to gossip and talk about his marriage, but when he does something that he didn't have to do, simply because his heart was moved by this little girl, then it's certainly worth mentioning. Amen!
FAYETTEVILLE, N.C. — Basketball star Shaquille O'Neal paid for the funeral of a 5-year-old North Carolina girl after being moved by national news coverage of the case of Shaniya Davis, who police say was kidnapped and killed.

The Cleveland Cavaliers player was touched by the stories he saw and got in touch with the family to see what he could do to help, a spokeswoman for O'Neal said Thursday.

More than 2,000 people attended the girl's funeral Sunday. Her body was found Nov. 16 beside a rural road.

"I was sitting at home watching it on the news and the story brought a tear to my eye," O'Neal told The Cleveland Plain Dealer newspaper. [Source]
Read More
Daniel Hiram Gibson, Jr. was born at 11:54 PM on March 2nd, 2010 weighing 7 lbs. 3 oz.
Finally, with all the false alarms and false reports. I am happy to announce that Keyshia Cole is in labor. She's having a boy who will be named after his Daniel Gibson. You can read below to see all the drama, but this time it's for real. Congrats! Via Monica
______________________________________________________________
Monica says Keyshia Cole has not had the baby, yet. All these reports from Keyshia so-called family are false:
UPDATE: Feb 4th, 2010 at 7:30 PM Keyshia Cole is currently has been hospitalized for precautionary reasons, click here for details.
UPDATE: Monica confirms sex of baby via Twitter. Keyshia Cole is having a boy, and she and Boobie are now engaged! Click Here to read the tweets from Monica.
UPDATE: Keyshia Cole in Oakland during Christmas break at a charity event trying to hide her baby bump with a tutu.
UPDATE: People are saying that she may be six to seven months pregnant.
Watch this video for more proof. You can see that she is clearly six or seven months. She pats her belly when she walks in because she can't hide her baby bump, anymore:
I was trying to skip out and start my Thanksgiving break early; thinking nothing eventful would happen between now and Thanksgiving unless it involved Chris Brown or Rihanna. Then I was checking my top searches, and Keyshia Cole pregnant kept reappearing. So I decided to investigate, and according to Necole Bitchie, Keyshia Cole may indeed be pregnant. We have been down this road before, but Keyshia has been absent from the scene, and her wardrobe is less revealing. She is definitely on the suspect list, despite her label denying rumors two months ago.
Anyway, here is a picture of Daniel 'Boobie' Gibson and Keyshia Cole passing out turkeys in Cleveland, OH for the holidays. I can't tell anything from this picture, but you better believe I'm watching, and waiting…
Read More
Here are few pictures of Rihanna promoting her new CD, Rated R, at the Best Buy in NYC.  Rihanna has been on world wind publicity blitz trying to make sure this album is Number 1. Today is the officially release date of Rated R, so if you haven't' gotten your bootleg copy online, please go download the album legally and support an artist.
Queen Latifah attended a fundraiser for Rosie's Kids Broadway Extravaganza at the Double Tree in NYC. Queen should probably just come out of the closet, already, you know she's
Read More