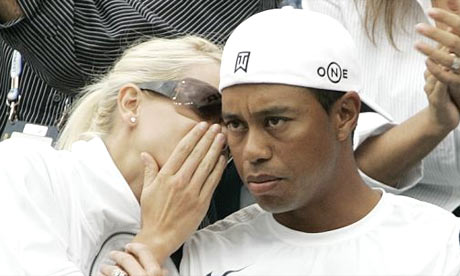 FOR MORE UPDATES & DETAILS ON THIS STORY CLICK HERE: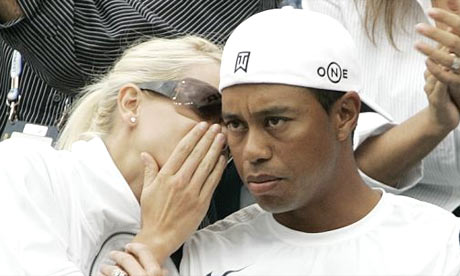 Tiger Woods was involved in a "car" accident which left him in and out of consciousness  with lacerations to the face. Mind you this accident started in his driveway, and no other cars were involved. Pretty serious "traffic" incident when there was no traffic. My husband kept asking, how do you get into an accident that serious in your own driveway. Perhaps TMZ has the answer. I knew instantly when they said Tiger's wife had a golf club, that there was foul play, especially since both of them were up at 2:25 in the morning. I also didn't understand how a little woman broke the car window with a club, and dragged him out of the car. (She must have been a strong "woman", or a a mad bish).
TMZ is reporting that Tiger Woods' wife, Elin Nordegren, found out about an "allege" incident of infidelity and went Crouching Tiger, Hidden Dragon on Tiger Woods face. (I wonder what all my Rihanna fans are going to say about this example of domestic violence. It's probably different since women are too weak to be an abuser). Reports says that she scratched his face up Norweigian-style by way of the hood.
Anyway, it seems Tiger Woods was trying to flee the situation, but was distracted by a golf club hitting his car and windshield; not to save him, but to hurt him. He thought the car was in park, but it was not, and therefore rolled into a fire hydrant and then a neighbor's tree.  Apparently the injuries from the "accident" were caused by his wife prior to the "accident". Once again, celebs are using car "accident" as a synonym for "domestic violence".
Tiger Woods has also admitted to taking prescription pain killers that night. "Continue Reading" to see what TMZ discovered from the police report and witnesses.
Read More