This is a great way to get back in the swing of things. I missed OSF last week, and I felt so disconnected from everyone. Everyone make sure you show Marvalus some love because she has single-handedly kept us on track. I don't know what to chose, I grew up in the South and although we loved the East coast, we just seemed to be more connected to the West, and my most favoritest person and rapper in the whole world got his start when he moved to the West. So naturally my first pick is Tupac. However, the South had a groove going back in the day with some more regional talents like Scarface. So for my OSF second pick of the week I give you Geto Boys…I'll save all the Beastie Boys, Run DMC, and Rakim for the rest of my fellow bloggers.
[I changed my song, Shae-Shae and I picked the same song, so I switched it to another Tupac song.]
[coolplayer width="480" height="380" autoplay="0" loop="0" charset="utf-8" download="0" mediatype=""]
Tupac
[/coolplayer]
[coolplayer width="480" height="380" autoplay="0" loop="0" charset="utf-8" download="0" mediatype=""]
Geto Boys
[/coolplayer]
-Electronic Village – Chatting Over Cocktails – Ms Grapevine – Quick – Marcus LANGFORD – Cassandra – Danielle -Lisa C -Chocl8t – DP – Kreative Talk -MarvalusOne – Regina – LaShonda -AJ – Sharon – Invisible Woman -Believer 1964 – Dee – SJP – sHaE-sHae – Songs In the Key of Life – Hagar's Daughter – freshandfab – Thembi
Read More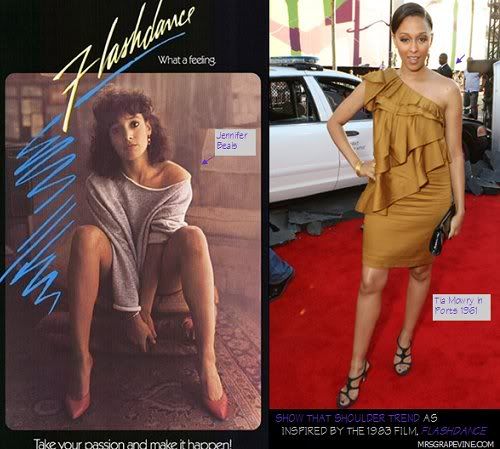 Tia Mowry's silk ruffled Ports 1961 dress at the L.A premiere of "Hancock" may have been inspired by the off-the-shoulder look launched by Jennifer Beals in the 1983 film, "Flashdance." So I said to a great friend – "Oh, there's a trend born again!"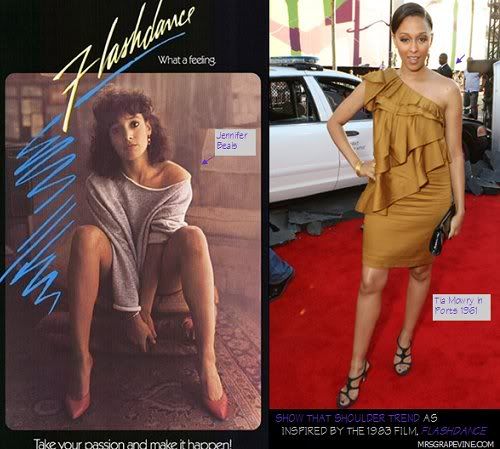 The asymmetrical look has been seen on Ghita fashion designer Alexis Phifer, newly Vogue it girl Tocarra, Michelle Williams, Vanessa Williams, Zoe Saldana, and recently Ciara. This look is H-O-T because you can still rock a bra like this convertible one AND you don't have to worry about constantly pulling up your top/dress…technically.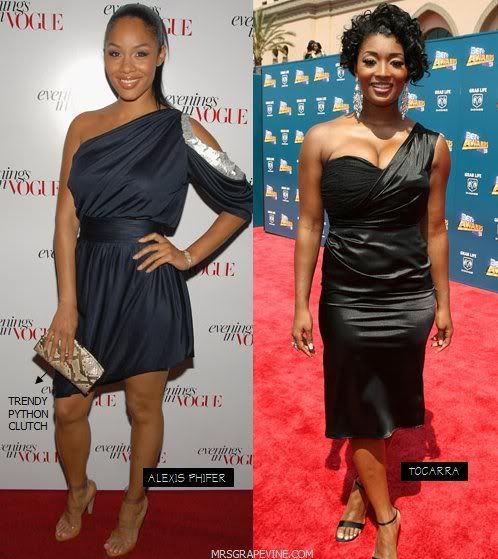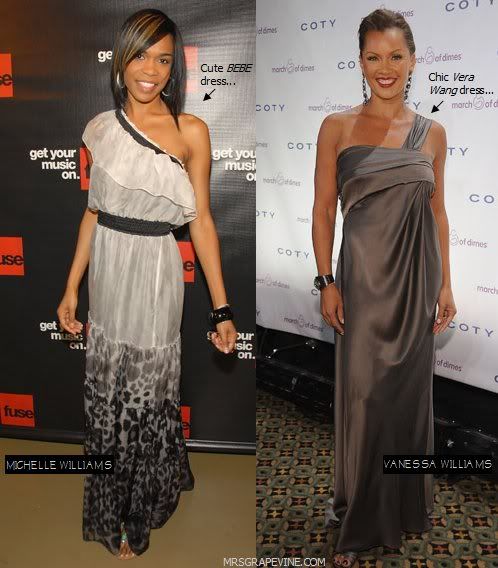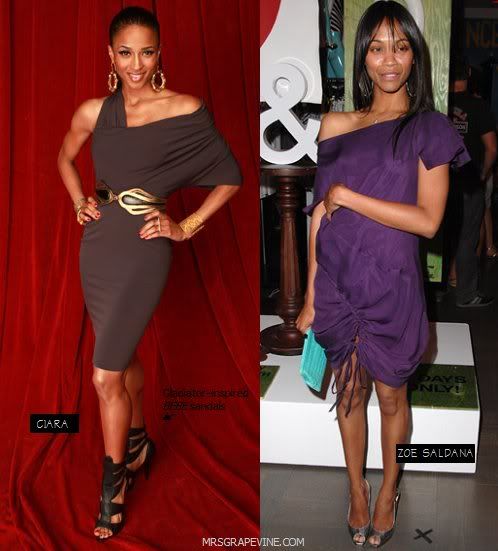 The downside of wearing this look is the one-sided tan. (LOL!) Cocoa butter quickly becomes a girl's best friend when you decide to wear this look. So sit back and enjoy a few affordable pieces you can grab to obtain the "Show that shoulder" look.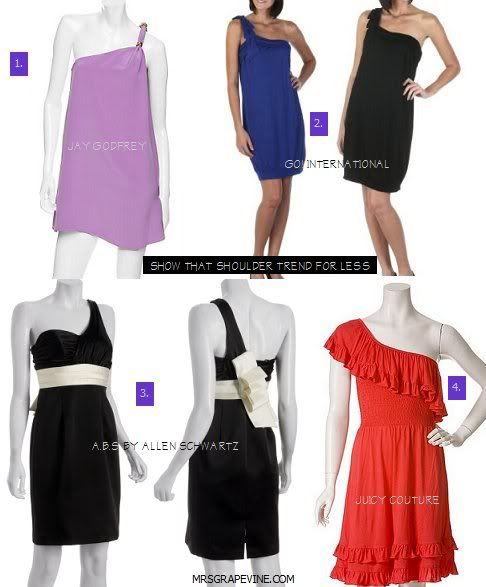 1. Jay Godfrey one shoulder silk jersey, $495.00 INTERMIXONLINE.COM
2. Go International One-Shoulder Jersey Dress, $34.99 target.com
3. A.B.S. black pleated sateen one-shoulder dress, $189.00 bluefly.com
4. Juicy Couture Cherry Pie Crochet Smock Dress, $228.00 CHICKDOWNTOWN.COM.
So what are your thoughts on this look? Who can pull it off or who should leave it alone? While you ponder a great reply, check out the latest fashion spots I discovered over at URBAN-HOOPLA.COM.
(Photo credits: WIREIMAGE. GETTY IMAGES)
Read More
I know I have been slipping lately, I have been enjoying my summer, so much so I almost forgot to post pictures of Usher's son, Usher V. I have been waiting forever to see this child, and I let the moment almost slip right pass me. I'm happy to inform you, he is one beautiful baby boy. Here is an excerpt from the Essence interview with Hill Harper and Usher on fatherhood:
HARPER: If you could take your finger and touch your 9-month-old son, Usher V, on the head and impart some certain knowledge, what would you want him to know?

USHER: First of all, I'd actually look inside myself and evaluate what I felt like I missed from my own father.

HARPER: What did you miss?

USHER: Knowing that I was accepted. That I mattered. And hearing that he cared enough to put me before himself.
Read More
I haven't posted too many pictures of Gabrielle Union since she went off on all the blogs for tearing black celebrity women down from their weaves to their ashen ankles, but there is a new movie out with a black cast, and she happens to be in it, so I will post some pictures of Gabrielle Union. I will help market this movie, although I'm scared. I read the premise and I have to say it just doesn't sound like my kind of movie, but it may be something worth taking the kiddies to see. Truth be told I heard it's kind of funny. Meet Dave is about some small aliens (micro small) inside a spaceship that looks human, like Eddie Murphy. Eddie Murphy plays the part of the human looking spaceship as well as the captain of the miniature crew. So the Nilleans, as they are called, are on earth in search of a device that will help them save the planet Nill, where the miniature aliens live. The goal of the crew is to make the spaceship look and act like a real person, and fit into the New York culture. Sounds funny, right! I sure hope it is. Anyway check out pics of Gabrielle Union at the premier.
Read More
I agree with celebrities, but only sometimes, people can be really cruel. I've been reading comments about Jennifer Lopez in her bikini after having twins…not one, but two children, and the fact that she can wear a bikini is impressive to me. I think we are so use to our celebrities bouncing back, that people forget that having a baby isn't easy on the body, and it takes a little time to snap back, and that's if it can. So, I love Jennifer Lopez's post baby body. I think it's great that she has the courage to rock bikini after having twins. So stop the madness…
Read More