Vanessa Williams treated her daughter Jillian for lunch at La Scala Restaurant but this is all besides the point because Vanessa has on a (now) $23.00 Simply Vera Vera Wang dress. Kohl's has Vanessa's blue pleated 3/4 sleeved dress marked down from $78.00 to a whopping $23.00. Of course the dress is sold out!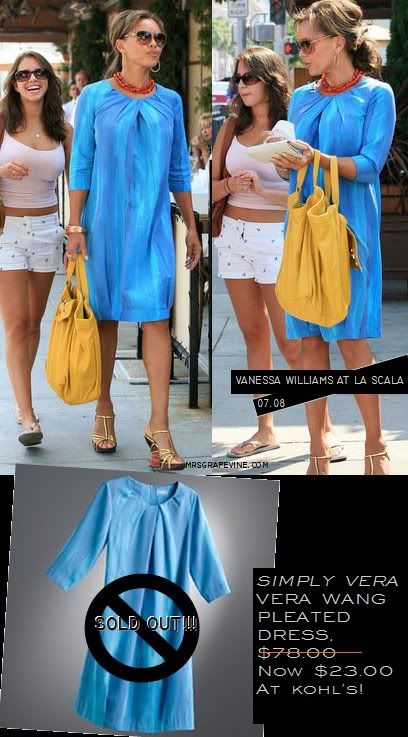 But thanks to EBAY, this dress can be yours for $34.95! I found a great steal for $70.00-$140.00 like this Susana Monaco pleated jewel Neck Dress.
Thoughts?
Chi-Chi, urban-hoopla.com
(Photo credits: BAUER GRIFFIN. EBONY)
Read More
Venus looks amazing, and she wears winning well. It's something about being the year's best female athlete that makes her glow. Checkout Venus Williams and others at the 2008 Espy Awards of Nokia Live in L.A…
Check out these pictures and more in the new gallery…
Read More
This is the part of Hollywood I like, the real beautiful women behind the characters we love so much. Malinda Williams bridal shower is full of women worth admiring, and the sisterhood shines right through the photos. I remember Malinda Williams as far back as The Cosby Show, and I have always been a fan. I'm glad to see this personal side of her. Malinda is blogging her wedding experience with rapper D-nice for Essence.com, so please be sure to check it out…
[Terri J. Vaughn giving a speech in which she told Malinda she was her angel]
[A.J. Johnson, Terri J. Vaughn, Vanessa Williams, Dawn Lewis]
[Vanessa Williams Giving A Speech On Motherhood]
[Malinda's Mother Giving A Speech In Which Calls Malinda "Fearless"; Sally Richardson In The Background]
Read More
Is it me or does this just not seem right? Why is Ashanti dressed like a video vixen in her boyfriend's video? This may be one of those moments when I need to mind my own business, and just wait for the final project. Right now, it looks like Ashanti is using her assets to help Nelly make money, and we all know what that is commonly called…
She does look nice in the next picture, so maybe the above picture is an angle that will not be shown in the actual video. What man other than Ice-T would want their wifey on display?
Read More
I just got back form church and the sermon was very interesting. It made me wonder, how many people know their calling in life, their life's purpose. No matter who you are you have a purpose, you are uniquely designed to fulfill something special. I'm 30 now, and I love to do so many things, and I'm good at them, but I feel like I'm missing my life's purpose. I know my heart is drawn to helping others, but we live in a time of wealth, and part of me want to pursue money before I do what I know I'm rightfully designed to do. So, how do you step out on faith, and just give your life over to it's calling.
This really became apparent Friday when we were discussing hip-hop over at Hagar's Daughter Blog. I take offense when people talk about hip-hop, and I know it's not perfect, but I think I'm much like David Banner in this way; I understand it's music of inflicted people, people that are dispossessed. This is not a means to justify it, but those that are the most critical seem to do very little to help or educate the youth, instead they talk down upon them as if they should just know better for the sake of knowing better, instead reaching out a helping hand to enlighten. I can't look down on the music or the rappers because I feel our inner city youth have been let down, and we blame the music because it's so easy to do, but what does the music really say about us, all of us as a whole. It reveals some serious truths that we as a community don't want to deal with publicly or privately. Why are our children rapping about drugs and not about Christ? Why are our women being disrespected instead of lifted up? How did music come to this? Who are our rappers' heroes? Is it you?
My life purpose is to be the light, to offer hope in a child's life where there is none. I will give the youth something different to sing about, because I believe they are better, they can be better, and they are asking us how. This doesn't mean I'm going to listen to rap music and support it, this means I'm not going to degrade the people accused of degrading other people. Everyone is human and redeemable, and I believe that as much as I believe in Christ. I don't care if people don't agree with me, I don't care if people see it as the music of the devil, I don't care if people boycott it, I don't care if people turn their radio off when they hear it. But I do care, if you sit on the sidelines pretending it's someone else's problem when it's our problem. People can continue to hear the trash in the music, I will continue to hear – S.O.S.
I will heed to the calling…
Read More