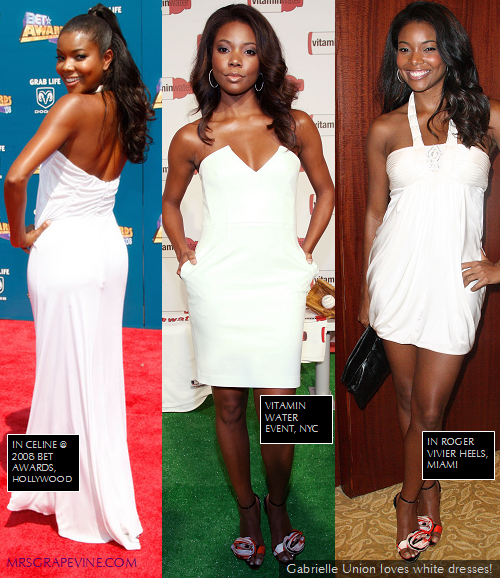 Everyone has a signature style trend of their own. However when celebrities have one, you and I sort of wonder why they hold on to one style item forever. Truth be told, celebrities have access to free clothes and fashion stylists. Anyhow check out these three known folks rocking their favorite look…
Gabrielle Union's love affair with a white dress started when she wore a Celine number to the 2008 BET Awards. Soon after she paired her favorite look with Roger Vivier flower sandals.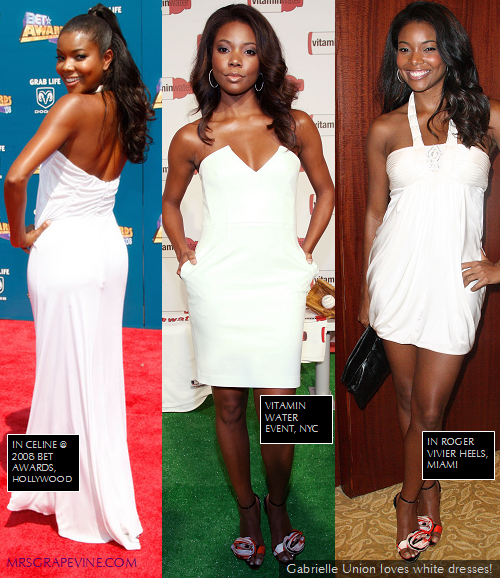 Alicia Keys and her mild obsession with fitted jeans may be a style effort inspired by her upcoming Emporio Armani apparel line.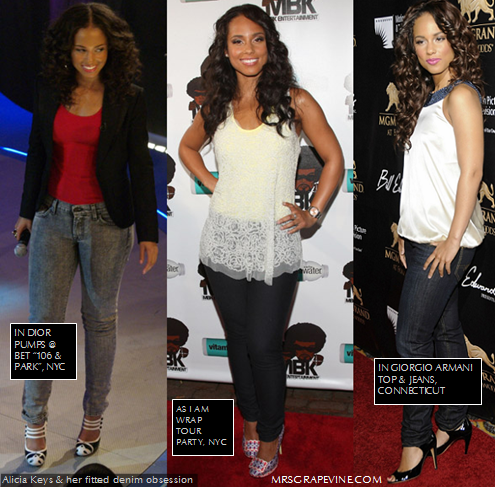 Kanye West and his oversized black shades are apart of his overall look and swagger.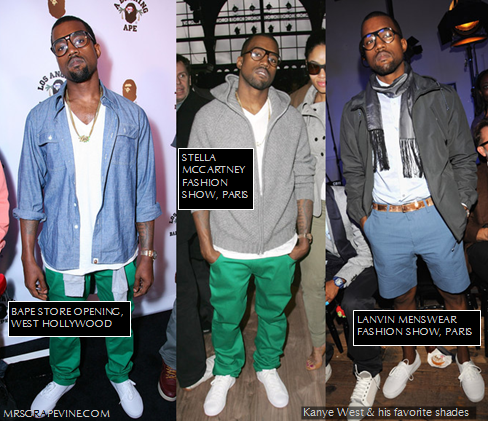 So here are a few pieces to grab a look similar to Gabrielle, Alicia, and Kanye. Click on the Polyvore photo collage to access the look for less.
So I ask what's YOUR favorite style item that YOU can't get enough of? While you ponder over a great reply, check out the latest fashion spots I discovered over at URBAN-HOOPLA.COM.
(Photo credits: WIREIMAGE. CELEBUTOPIA)
Read More
I can't tell you how happy I am, he looks so much better. It wasn't the braids it was the shaved bay hair sideburns that bothered me most, did he want a fade or did he want braids, because the two together wasn't working. I know I'm getting old in my age because this new haircut makes him look like a respectable young man, and the keyword is man.
Mariah Carey hit up URL without husband, Nick Cannon. She is rocking a rainbow pastel jean skirt, I think I had one of those in the six grade with stars and glitter on it.
Rihanna and Chris Rock do what normal young couples do, they have fun at the amusement park. I haven't been on a roller coaster in a minute, I may need to take a trip to Six Flags.
Read More
Here are some pictures of Deelishis at a Private Bowling Party at Lucky Strike in Miami, hosted by Swagga Entertainment and Dunk Ryder Records. Now usually I am a woman of words, many words for those of you who know me, but I have no words. This should have been a caption this contest because I need someone else to speak for me. If this outfit was worn on the beach, I probably wouldn't have much to say, except a suggestion of a one-piece, but this is not on the beach or near any water, this is in a bowling alley. It's amazing what airbrushing can do to a picture because I never noticed any of this before…
[Disclaimer: MrsGrapevine doesn't have anything against stretch marks, she understands that pregnancy has affects on the body, she just thinks certain outfits should be worn in certain places with more material in certain areas. That's all!]
Read More
How beautiful, we get our first look at Halle Berry as a mom. I'm so glad, I'm not a celebrity, it has to feel weird to have people watching you at your most intimate moments. Although I think it's weird, I know you want to see the pictures just as much as I do…
Read More