Python's Back In Style!
This past week in black celebrity fashion a python (faux or real) clutch has quickly become the ideal item to top off a look as seen on Amerie, Selita Ebanks, Jada Pinkett Smith, and Taraji P. Henson.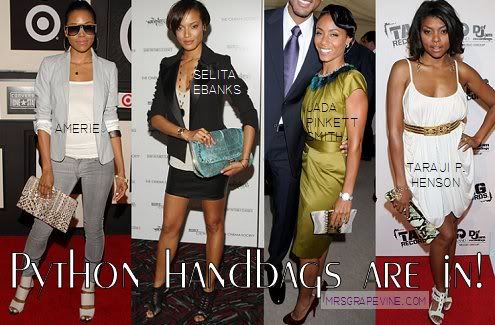 A python (re: snakeskin) clutch can be worn dressed up like Jada or dressed down like Amerie's Stuart Weitzman clutch. So it is safe to say that the python clutch has become the Summer handbag? Between you and I, it is safe to say that python handbags are IN for the Summer. Here are ideal (re: affordable) python clutches to grab a look similar just like the ladies.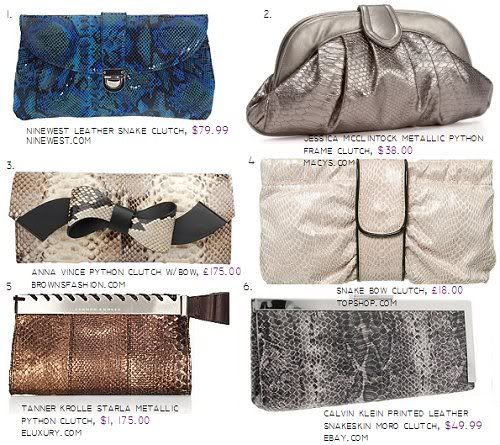 1. Nine West Leather snake clutch, $79.99 NINEWEST.COM 2. Jessica McClintock Metallic Python Frame Clutch, $38.00 MACYS.COM 3. Anna Vince python clutch with bow, £175.00 BROWNSFASHION.COM 4. Snake bow clutch, £18.00 TOPSHOP.COM 5. Tanner Krolle starla metallic python clutch, $1,175.00 ELUXURY.COM 6. Calvin Klein printed leather snakeskin moro clutch, $49.99 EBAY.COM
If you choose to wear this trend I recommend the faux style and not the real snakeskin style. You know it's the faux style based on the price tag. So do you see yourself hopping onto this latest trend?
While you think of a response, allow me to introduce myself to you all. My name is Chi-Chi from celebrity entertainment news blog, Urban-Hoopla.com and Afro/Naija lifestyle blog, Feels Good 2 B Home. I'm honored to be apart of the MRS.GRAPEVINE.COM staff as its fashion contributor.
Photo credit: WIREIMAGE
Similar Posts: